Strata Florida Tiles
These images are derived from patterns on the medieval tiles found at Strata Florida, not far from Aberystwyth in mid-Wales. They were made in 2012–14 and first exhibited as prints on canvas and on paper in 2014. A book including many of the images was published in 2014, and the patterns were the subject of my first pieces made in glass.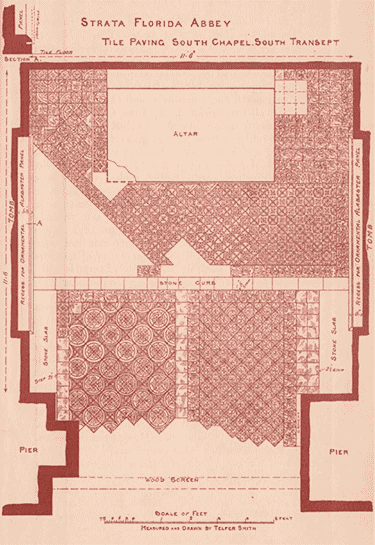 The tiled floors at the former Cistercian abbey at Strata Florida were uncovered during the excavations in the 1880s under the direction of the architect and antiquarian Stephen Williams. Ceramic tiles were found throughout the east end of the abbey church and have been found in more recent excavations elsewhere in the abbey precinct.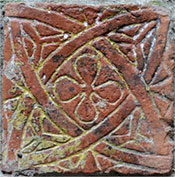 These fourteenth-century tiles are of about ten main designs and many are now collected together in the south transept chapels.
When originally exposed they formed more complete patterns that were recorded in drawings by Stephen Williams' assistant Telfer Smith. The designs are mostly abstract and can be found elsewhere at monastic sites and churches in Wales and Shropshire.
Some of the images show single tiles, sometimes layered with another pattern, while larger prints comprise four tiles making a larger and more complex patterns.