Research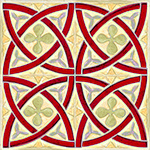 Original research in the visual arts
Medievalism
---
The Middle Ages has been a constant source of inspiration and fascination for artists and writers from the mid-eighteenth century. This was particularly the case for much of the nineteenth century, when the medieval period was especially fashionable.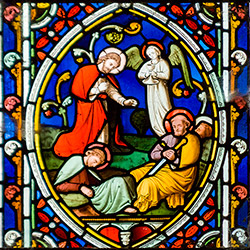 My visual art practice has been mainly focussed on the medieval decorative art that survives in churches, and this work was the starting point for my practice-based PhD based at the University of Wales Centre for Advanced Welsh and Celtic Studies, which provided me with the opportunity to make a new body of work for my first major solo show in August 2014.  I also considered my own work in the context of other artists that recorded and interpreted medieval visual culture during the nineteenth and twentieth centuries.
Examples of the work produced for my PhD exhibition can be found on my pages about the screen at Llananno and the grotesques at Gresford.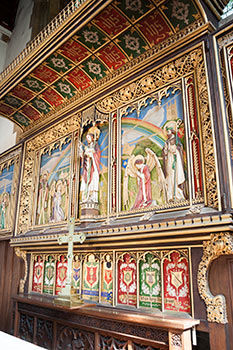 Medievalism is of particular importance in the development of stained glass design from the time of the Gothic Revival onwards, and remains influential on most contemporary makers, although the imitation of different medieval styles is more characteristic of most Victorian stained glass, and mainstream stained glass for churches up until the mid-twentieth century. Similarly, it colours most other ecclesiastical arts and furnishings of the same period, in keeping with the predominance of the Gothic Revival on Victorian church building and restoration.
Beyond ecclesiastical circles, the effect of medievalism on the fine arts is usually less obvious and more nuanced, particularly in the twentieth century, as artists who were fascinated by the Middle Ages did not produce work that clearly resembled the art of the period.