Research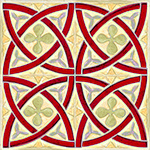 Original research in the visual arts
Saints
---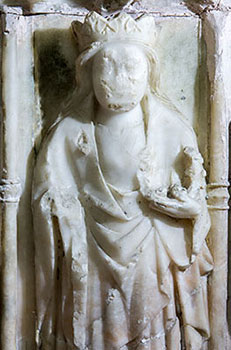 Between 1999 and 2001 I created a series of images concerning two saints from south-east Wales as prints, animation and installation. These images interwove specific examples of historical visual culture with the tradtions surrounding St Gwynllyw and St Tatheus. My more recent visual practice has been less intertwined with specific Welsh medieval narratives and more abstract, but I have since returned to the subject of saints, working on research projects at the University of Wales Centre for Advanced Welsh Studies from 2014–19.
These research projects were funded to transcribe, edit and publish medieval texts concerning saints in Wales: prose lives, poetry and genealogies. My role as a member of the project team was mainly to coordinate events and exhibitions, but it was also an opportunity to share some of my research into the imaging of saints in Welsh churches. Although very few medieval images of Welsh saints survive in stained glass and sculpture, they were depicted in stained glass and other media in churches from the mid-nineteenth century, and more commonly from the 1880s.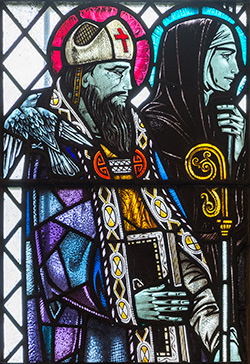 A new book about this imagery, Welsh Saints from Welsh Churches, is in preparation for publication in 2021, but a taster of some of the kinds of artworks that will be included in the book can be found in my smaller work, Depicting St David, published in February 2020.