Work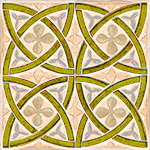 Professional design and photographic services
Sulien Books
---
During the summer of 2014 I produced small books on the medieval stone grotesques at Gresford and the stained glass at the Church of St Mary, Tenby. The first was a special limited edition book to accompany my summer exhibition, 'Patterns Monsters and Mysteries', while the second was commissioned by the Friends of St Mary's.
I subsequently decided to establish an imprint to publish similar books in the future, and the first to be published by Sulien Books is similar to the Gresford book, featuring more new images from the summer exhibition, which travelled to Tregaron in October 2014. The Medieval Tiles of Strata Florida also summarises the history of the site and decribes the medieval artworks on which the images are based.
The two previous books based on material from the churches at Gresford and Tenby were also retropectively listed as published by Sulien Books and given ISBN numbers. Books on the Continental stained glass at Hafod and Llanwenllwyfo have followed in 2016. The books have been printed at Y Lolfa, Talybont, in west Wales, who printed and also published my larger book Stained Glass from Welsh Churches (June 2014).
I particularly welcome commissions for books on stained glass and collections of artworks in churches, whether as designer, photographer, writer or all three!