Welsh Saints
Tatheus and Gwynllyw
Between 1999 and 2001 I created a body of work concerning two saints from south-east Wales as prints, animation and installation. These images represented a change in direction of travel: utilising specific examples of mainly Welsh historical visual culture in the interpretation of the past. Since these images were made, my work has been less intertwined with specific Welsh medieval narratives and more abstract.
Twelfth-century texts tell us that Tatheus established his monastery within the remains of the Roman town of Caerwent. The images link the tradition of the saint with the Roman and post-Roman archaeology of the town.
Gwynllyw is associated with Newport and the site of St Woolos Cathedral, and elements of the art and architecture of the cathedral feature in the images.
The images of St Tatheus are based around the history of Roman and early medieval Caerwent. A Roman civitas, the town of Caerwent seems to have been abandoned early in the fifth century AD. The Roman town has been the subject of archaeological excavation for over 150 years, which has revealed the layout of most of the Roman town, including the basilica, two temples and many artefacts and mosaics. Among the discoveries was a pewter bowl with a Christian chi-rho symbol scratched on its base, which is the earliest archaeological evidence for the new Roman faith in Wales.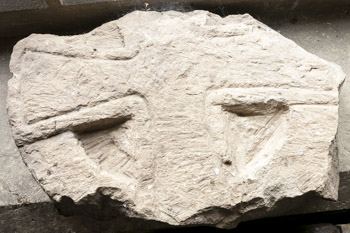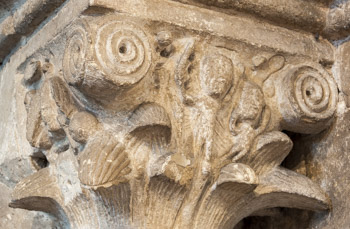 Although no early medieval buildings have been found at Caerwent, many burials of the Roman and post-Roman period have been found inside and outside the old town, which may indicate that the area was used as a Christian site. Furthermore, early medieval ring pins and brooches have also been found, and some coins of the tenth and eleventh century. We also know that a large monastery existed at the site by the tenth century, according to information found in the Llandaff Charters. Recently an eleventh century cross fragment was found in the churchyard.
The twelfth century Life of Tatheus records his arrival from Ireland, and the miraculous sign of a tamed stag sufficiently impresses Caradog, the king of Gwent, to grant Tatheus his own town of Caerwent.
The images for Gwynllyw draw on aspects of the twelfth-century Latin Life and several architectural features of St Woolos Cathedral, Newport, which retains his dedication in a corrupted form. Some of the oldest parts of the church, such as the nave, and the decorated arch and capitals at the west end of the nave are roughly contemporary with the extant written version of the Life.