Llananno Screen
These images, derived from patterns on the Llananno screen, were made in 2014 and exhibited as canvas prints. The images were also developed as an animation, as they gradually merged into each other and glimpses of the original woodcarving, and the intermediate stages of my image-making process, could also be seen.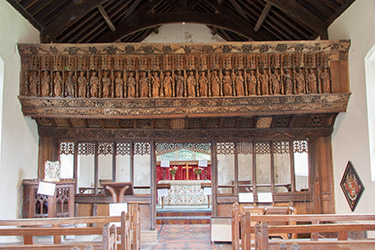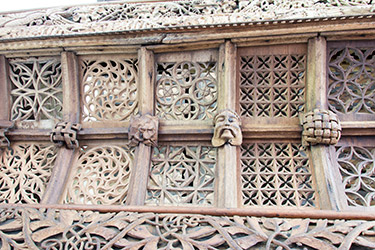 Rood screens divided the congregation in the nave from the celebration of the mass in the chancel of medieval churches. They were painted and often decorated with abstract patterns as well as figures and texts, and supported the rood loft and rood (the crucified figure of Christ) above. The rood screen at the Church of Anno, Llananno, is among the finest surviving examples in Wales, although parts have been restored and all of the figures were added when the rood was reconstructed in the rebuilt church in about 1880.
The patterns in these images are all adapted from the coving panels on the underside of the rood loft, which cannot be seen from the main body of the church. About fifteen of the thirty-four panels are medieval, and many are slightly regularised later copies of original patterns. A few of the patterns are also found on the Newtown screen, now at the Church of St Llwchaiarn, Llanllwchaiarn, and it is thought that a medieval workshop in Newtown was responsible for numerous screens in the area in the late fifteenth and early sixteenth century.