Photography and design for books, leaflets and interpretative material.
Links for research concerning stained glass in churches in Wales.
Major research projects editing medieval Welsh and Latin texts about saints in Wales.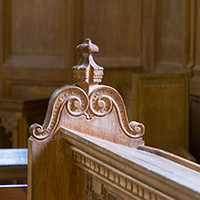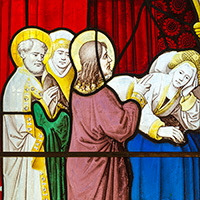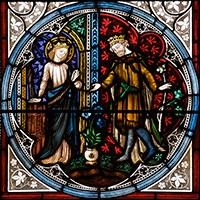 News and events
I am currently working on two projects at the University of Wales Centre for Advanced Welsh and Celtic Studies. A short project funded by the Arts and Humanities Research Council will produce a new resource on saints in Wales, which will provide information on the imagery of saints in the medieval and modern periods alongside geographical distributions of saints' cults in Wales. I am also engaged part-time on the Ports, Past and Present project, funded by the EU through the Interreg programme, focusing on the Irish Sea ports.
Earlier this year I appeared on the BBC 2 Wales and BBC 4 series The Story of Welsh Art, discussing the Tree of Jesse window at Llanrhaeadr-yng-Nghinmeirch. It remains available on BBC iPlayer for a year. The night before the first broadcast on 1 March I was interviewed by Roy Noble on Radio Wales about the imagery of St David, and a couple of days later I gave a talk on the subject in an online webinar for the Stained Glass Museum. In June I gave a lecture as part of the Art + Christianity series on Art in Cathedrals, on the medieval tiles of St Davids Cathedral and my images based on the patterns.
My recent review on a new book about the artist Douglas Hamilton for Vidimus is found in the same issue as the review by Megan Stacey of my Depicting St David (2020). I am continuing to work on new publications on the imagery of saints in Wales, and Welsh Saints from Welsh Churches will be published soon.
In January 2022 I will giving a talk on 'Welsh Saints in Stained Glass by Celtic Studios for the Honourable Society of Cymmrodorion, in London and live online.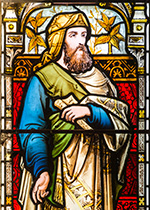 Stained glass by Ward & Hughes at Swalcliffe, Oxfordshire
The conservation of stained glass is often a pressing problem for historic buildings, especially in the case of the considerable number of mid-nineteenth century windows that have suffered from paint loss, fungal growth and bowing and cracking from a combination of the ways in which the windows were manufactured and installed and ongoing environmental factors.
In the autumn of 2020 I was approached to write a detailed illustrated statement of significance for the church at Swalcliffe in Oxfordshire, setting out the history and national context for a series of windows by Ward & Nixon/Ward & Hughes. Preparation of the report was a reminder of how little has been written about the work of the firm, who were tremendously prolific from the 1850s and into the early twentieth century, in their various incarnations.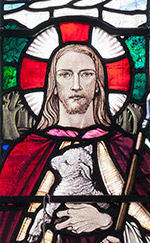 New work consolidating windows catalogued on Stained Glass in Wales
Over the course of 2020 I have been revisiting and updating hundreds of records on the database shared by the Stained Glass in Wales and Imaging the Bible in Wales websites with the help of funding provided by the Glaziers Trust.
This has included improving the dating of windows already online, and attributing a further 100 windows, using archival information as well as evidence presented in recent publications. I have also used information from these sources to update notes on over 80 artists and studios, and listed 120 new articles and books in the bibliography, adding hundreds of references from these publications to artists, studios and windows on the site. With so much of this work completed, it will be easier to keep the database updated with information from new publications where possible.
Further windows have been added to the site, including important collections of stained glass at Leighton (big windows of the 1850s by Forrest & Bromley), Ely (Cardiff, windows by Francis Spear and Veronica Whall), Betws (near Ammanford, a fine set of modern windows with Lawrence Lee's wonderful east window), Pontyberem (more modern windows including work by John Petts and Gareth Morgan) and over 300 new images have been added, such as numerous details from St Mary's Abergavenny, and the addition of Helen Whittaker's recent Tree of Jesse at the church. Much remains to be done, and more information can be found on the Stained Glass from Welsh Churches blog.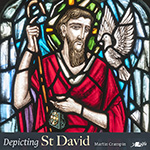 Two books for Spring 2020
My first book published by Y Lolfa since Stained Glass from Welsh Churches was published in February 2020, and was launched at a small event at Cardiff Cathedral on 16 March. The book, Depicting St David, is a study of the imagery of Wales' patron saint, and shows different ways in which the saint has been depicted, both as a standing figure alone or with others, and in scenes depicting stories associated with the saint. I have written more about the book and a few of the discoveries made along the way on my blog. For copies visit Y Lolfa website.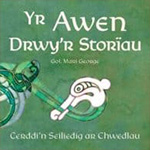 A very different book published by Barddas in March 2020 featured my illustrations in a book of Welsh poetry. The book, edited by Mari George and elegantly designed by Tanwen Haf, includes poems and prose texts inspired by medieval Welsh narratives. The modern poetry, based on these old traditions, is mirrored by my own work, which adopts forms found in eleventh-century manuscript illumination, layered with later medieval patterns. Llawer o ddiolch i Alaw Mai Edwards, a former colleague on the 'Cult of Saints in Wales' project, for her intiative in bringing this project to fruition.
The book is available from gwales.com, where a list of the poems can be found.
Recent news and events
Recent talks