Photography and design for books, leaflets and interpretative material.
Links for research concerning stained glass in churches in Wales.
A four-year research project editing medieval Welsh texts about saints in Wales.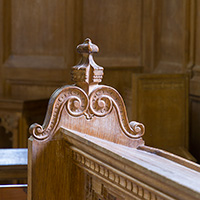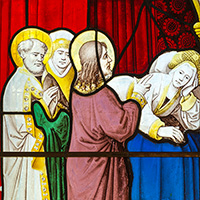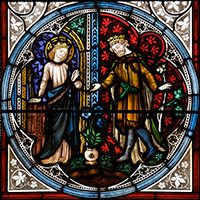 News and events
I am showing work as part of the 'Art on the Faith Trail' exhibition at a number of churches in northern Pembrokeshire in June and July. There are examples of my work at Llanwnda, Llanychaer and Pontfaen, churches that are all within a few miles of Fishguard, as well as at St Davids Cathedral.
At the end of June I will be travelling to Manchester University to speak at 'The Middle Ages in the Modern World' conference about medievalism and Celticism in the visual art of Wales.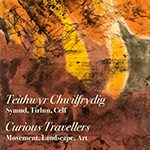 On the Move: Curious Travellers come to Oriel Brondanw and Old College Aberystwyth
Last autumn I took part in an innovative group exhibition at Oriel Sycharth, Wrexham, in which thirteen artists responded to Thomas Pennant's Tours in Wales. The exhibition was organised as a contribution to the 'Curious Travellers' research project by my colleagues at the Centre for Advanced Welsh and Celtic Studies, Mary-Ann Constantine and Elizabeth Edwards. My work for the exhibition was based on the rood screen and architectural sculpture at the Church of All Saints, Gresford, a church that Thomas Pennant visited and wrote about.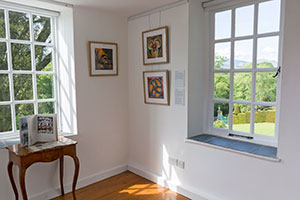 The show has now been installed at the magical location of Oriel Brondanw, and runs there until 25 June. It will also be shown in Old College, Aberystwyth, in July, but this will probably be in an abridged form, so a visit to Oriel Brondanw is advised, where the architecture, gardens and views are so exquisite and provide a fine setting for the work.
For those unable to visit the exhibition, and for those who wish to remember it, a book of the exhibition is now available. I designed the book and provided much of the photography, which includes a double-page spread for each of the artists, an introduction and poems by Ifor ap Glyn and Philip Gross. The book is available at the exhibition venues, or contact me for copies (priced £5).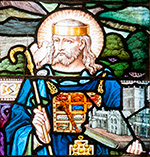 Saints and Stained Glass: talks in spring 2017
On 1 April, I contributed to an afternoon of talks at the Church of St Padarn, Llanbadarn Fawr: 'Padarn and the Saints of Wales'. During the preceding week, my colleague David Parsons and I gave gallery talks for the 'Stories of the Saints' exhibition at the National Library of Wales on 29 March. I was also interviewed about the exhibition for 'Sunday Matters', which was broadcast across Radio Pembrokeshire, Radio Carmarthenshire and Radio Ceredigion on Sunday 26 March.
I helped to lead visits for the Stained Glass Museum Study Weekend to a number of churches in north-east Wales (21–23 April), together with Jasmine Allen, curator of the Stained Glass Museum, and Penny Hebgin-Barnes, an expert on medieval stained glass. The weekend brought me back to many churches that I had visited before, but also introduced me to some new places in Cheshire, in particular the private chapels at Cholmondeley Castle and Eaton Hall.
In May I was invited to speak about medievalism in nineteenth-century stained glass at the 'Reframing Stained Glass' conference in Cambridge, organised by Gareth Atkins of the 'Bible and Antiquity Project', Centre for Research in the Arts, Social Sciences and Humanities (CRASSH).
I then returned to a mix of saints and stained glass for two talks at the National Library of Wales. I gave a lunchtime lecture about the imagery of saints in churches in Wales on 17 May and on 3 June I will be among the speakers at a one-day conference 'Stories of the Saints'.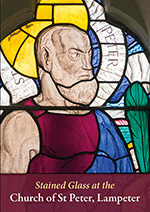 New book on the stained glass at Lampeter now available
I have been collaborating with John Hammond on a new book about the stained glass at the Church of St Peter, Lampeter. The book has now been printed and is published by Sulien Books.
The cover features the image of Peter from the impressive west window by Wilhelmina Geddes, and is among her best works. This window is one of many stained glass windows at the church, which includes work by a number of nineteenth and twentieth century makers, such as Bell & Almond, Lavers & Barraud, Robert Newbery, Ninian Comper and Powell & Sons.
Copies of the book can be obtained from the church and will shortly be available from the Sulien Books website. As yet a launch event is still to be arranged but will hopefully be held later this spring.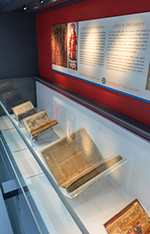 Stories of the Saints
Exhibition at the National Library of Wales 18 February – 10 June 2017
I have been co-curating an exhibition of medieval and early modern manuscripts at the National Library of Wales, as part of my work on 'The Cult of Saints in Wales' project.
In 2017, the Year of Legends, the exhibition remembers the stories of the saints that were once plentiful in medieval Wales, although many are forgotten today. The lives of these early saints, their genealogies, and poetry addressed to them, are preserved in manuscripts that are being exhibited at the National Library of Wales. This exhibition demonstrates the survival of medieval traditions about the holy men and women who represent an important part of Welsh cultural inheritance.
In addition to the manuscripts, there are other items from the National Library collection on display, and photographs of surviving medieval images of saints from my photographic archive. As well as co-writing some of the material with my colleague David Parsons, I also designed all of the interpretative material.
Recent news and events
Recent talks